"And soon, mechanically, weary after a dull day with the prospect of a depressing morrow, I raised to my lips a spoonful of the tea in which I had soaked a morsel of the cake. No sooner had the warm liquid, and the crumbs with it, touched my palate than a shudder ran through my whole body, and I stopped, intent upon the extraordinary changes that were taking place.
An exquisite pleasure had invaded my senses, but individual, detached, with no suggestion of its origin. And at once the vicissitudes of life had become indifferent to me, its disasters innocuous, its brevity illusory—this new sensation having had on me the effect which love has of filling me with a precious essence; or rather this essence was not in me, it was myself. I had ceased now to feel mediocre, accidental, mortal. Whence could it have come to me, this all-powerful joy?
I was conscious that it was connected with the taste of tea and cake, but that it infinitely transcended those savours, could not, indeed, be of the same nature as theirs. Whence did it come? What did it signify? How could I seize upon and define it?"
The above begins the famous Madeleines and Tea passage from the famous novel by Marcel Proust, "In Remembrance of Things Past". This is followed by 4 glorious pages describing how the Madeleines and Tea evoked Proust's childhood memories. The whole novel is written over 6 volumes and the passage above is from Volume 1, "Swann's Way", Du côté de chez Swann.
It is very difficult to describe Pink Sage, mixture of old and new, american diner meets cafe. It was a drizzly afternoon when I arrived there. The little diner/cafe is slightly elusive, and I had to ask for directions to get there. The easiest way to describe it's location would be at the entrance to Cap Square, behind a magazine vendor.
One I entered, a feeling of peace and nostalgia invaded me. I was transported to an ethereal KL, and the noise and the smell of diesel fumes mixed with the pungent smell of rain hitting on the tarred road was forgotten. The place was perfect for a lazy, rainy afternoon filled with reverie, "in Remembrance of Things Past". Except for the music. Some lazy Coltrane or Folky Keren Ann would be perfect.
Since the Pancakes came highly recommended, I tried them. Fluffy and light, served with Strawberries and Cream. I drizzled them with Maple Syrup and Strawberry Sauce. The Pancakes were good, but I found them a bit too thick. And it made made me reminisce about my late grandmother. She used to make Chinese styled Pancakes for me, especially during monsoon season in the East Coast. It would to rain for days, even weeks without stop. We used to stock up on tinned food, rice, flour, noodles and eggs in November, in anticipation of Monsoon Rains which threatens to cut off the East Coast from the West. The Pancakes were thin and sweet, just like the thin crepes in Mille Crepe cake. Fried in a wok, it tasted wonderful in the cold weather while listening to the sound of the raindrops falling and the wind whistling outside.
My mum was Singaporean. Back in the days when People's Park was THE place to shop in Singapore, my maternal grandparents lived in a resettlement area near what is now Bukit Merah, in a 4 storey flat. In the mornings, my cousins and I used to scamper up a grassy knoll to the opposite flats to buy apam for my Maternal Grandmother (who calls it apong, the hokkien pronunciation), bringing extra eggs ourselves to be added to the apam mix.

Light, fragrant and fluffy, with a tinge of sourness, added with saffron coloured sugar and grated fresh coconuts in the centre. Delicious . It must have decades ago since I last tasted it. But every bite still lingers in my memory. I do not have any photographs of that place, and I cannot even remember exactly how the flat looked like, or where it was. But the taste and the smell of the apam is still vivid, together with the image of my grandparents, and my aunts and uncles. There are no photographs of that place, but a lot of happy childhood memories. What remains of that place now, is just some electrical charge in my brain cells.


"And I begin again to ask myself what it could have been, this unremembered state which brought with it no logical proof of its existence, but only the sense that it was a happy, that it was a real state in whose presence other states of consciousness melted and vanished. I decide to attempt to make it reappear. I retrace my thoughts to the moment at which I drank the first spoonful of tea. I find again the same state, illumined by no fresh light."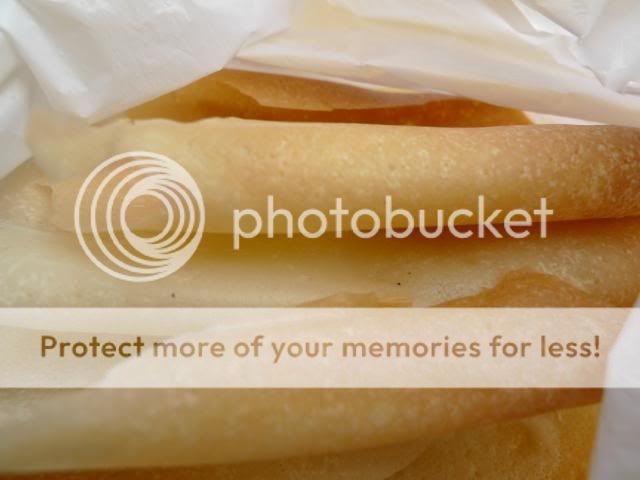 When I heard about a stall selling coconut apams in Imbi market, I was desperate to try it and hopefully be able to revive my childhood in Singapore. Alas, I never found it open until I was informed that it is only open on Thursdays, Saturdays, Sundays and Public Holdays. So, on Saturday morning, before I drove back to Terengganu, I caught hold of the chap, but had to wait for 20 minutes for the apam.
It did not bring back any memories of Singapore. This one was light and crunchy and tasted like Kuih Lipat/Kuih Gulung/Love Letters. It was good, nonetheless I was disappointed as I was expecting a Proustian experience, and expected my childhood days in Singapore to pop up like a 3D cutout book from the apams.
The Pink Sage Diner & Pantry
Ground Floor
Wisma RA
No. 12, Jalan Dang Wangi
Kuala Lumpur
Tel: 2693 6000
Closed Mondays. Opens 8am to 10 pm.

For those who are interested in reading Proust's Books FOC, the Montcrieff translation is available for download here, from the University of Adelaide. A newer translation (less Victorian and arguably, more readable version) is from Lydia Davis and available from Viking/Penguin.
I just had to slide this in... Noam Chomsky Show, a satire from Chasers war on Everything. I fell off my chair laughing. Literally. Philosophy meets Jerry Springer. It's only a minute and a half. Watch it and then you know why your kids should not do Philosophy at the University.

Ha Ha Ha...