Yut Kee

.
A venerable institution in Hainanese Food especially in the hallowed halls of foodies, and often mentioned in what was perceived to be hushed tones. Although I have been staying in KL for the past 1 year and 2 months, I have never set foot into this restaurant. I have often imagined old Chinese/Hainanese Coffee Shops to be hot, crowded and filled with rude waiters a la Coliseum. Having a whole Friday off, I braved the traffic and proceeded to Yut Kee, armed with the address from LL's blog.
Parking was a relatively easy. Plenty of places available in the road leading to the side of Yut Kee. When I arrived at the restaurant, it was already full and crowded, with a small queue outside the restaurant which I found out to be waiting for it's famed Pork Roast. The owner, his wife and son were outside the restaurant. They were surprisingly affable and friendly.
Ordered their Roti Babi to go. It actually has a slight resemblance to Jean Georges Croque Madamme. Lean Pork fired with Onion stuffed inside a thick chunk of bread which was soaked in eggs and then fried till golden brown like a French Toast.
The Roti Babi was expectantly good. The bread was still soft and warm, the pork succulent, moist and fragrant.
Ordered a whole Pork Roast to be packed and shipped to Terengganu. Mrs. Owner was kind enough to instruct me on how to re-heat the Pork after refrigeration. The whole family was really friendly and nice! That got rid of my misconception about rude service from successful Chinese eateries!
The rind was a thin layer of fat. Crunchy and fragrant. The seasoning of this roast was slightly different. They used peaches, pistachios and herbs (sage and rosemary?).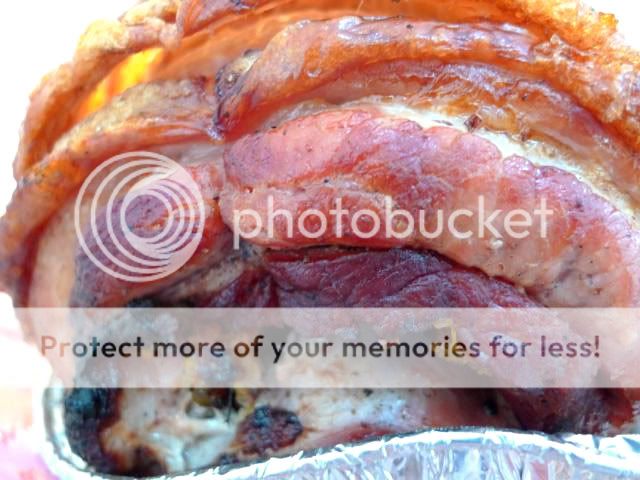 The pork came with a tub of apple cinnamon sauce. I only had two slices of the Pork Roast. I divided up the rest to be shared by pork deprived chinamen/chinawomen in Terengganu.
I shall go back there again to sample their Pork Chop and Chicken Chop.