Pavilion.
One of my favourite places to hang out during precious off days, after my routine of braving the wet market. What's there not to like? Lots of spaces in the mall, boulevard wide retail area and specific allocation of space dining area and easy parking. Off hand, there seems to be a lot of dining choices. In reality, there are not many good places to get good food, despite the numerous and still mushrooming restaurants that have opened there. Nestled among posh looking Asian Restaurants the Fine Dining 6th Floor of Pavilion KL, a distinctive Purple Coloured sign board stands out prominently. Celadon. Royal Thai Cuisine.
Although Thailand has never been colonised by any western countries, since the turn of the 20th century, there has been a lot of European influences in Thai Architecture and Interior Design. King Chulalongkorn, revered till today Architect of Modern Thailand had traveled extensively in Europe during his reign. His first trip was in 1897, and he had opened Bangkok as a trading hub with European Countries. Thailand was negotiated to be a political buffer for the other colonised countries surrounding it. To the north, and West, Burma was being colonised by the British who also controlled the Malay States South of Thailand. Laos and Kampuchea in the North-East and East respectively were governed by the French .
In turn, the Europeans and the King himself have brought with them prevailing Architectural trends in their home country. For those who have had the opportunity to visit the Vimanmek Palace in the outskirts of Bangkok and the Glai Kangwon Summer Palace in Hua Hin would have been able to witness for themselves the beauty of this intermarriage of Thai and European influences. Beautiful Teak mansions, while maintaining the Thai form and grammar with European inspired French Louvre windows, Bay windows and lovely white flowing lace curtains and numerous Thai object d'arts ornamenting the rooms of the Palaces.
I am seldom effusive about the interior of the restaurants I patron, but the interior of Celadon was breath taking in simplicity and was a beautiful blend of East and West at it's functional best. Lanna styled figure heads stenciled onto the dining chair cushion covers, lovely multicoloured silk cushions used to adorn the walls, beautiful lights and chandeliers and lots of woods, faux windows plus a tasteful addition of glass and steel functioning as wine racks took my breath away. The
Blue Elephant
in Bangkok is an example of a Thai restaurant with the same interior concept as the Celadon.
The menu, however was not very extensive for a Restaurant that is supposedly serving Royal Thai Cuisine. The ingredients and the dishes used in Thai Royal Cuisine or
Aharn Chao Wang
in Thai, does not differ much from normal Thai cuisine. It is generally served in smaller portions in addition to being visually stunning with a lot of carved vegetable and fruits used as garnishing. The taste is usually not too spicy (we can't have Royalty breaking out in undignified sweat during meals) and a lot of emphasis is placed on the natural taste of the ingredients used. The meat is usually small bite sized portions and do not necessitate the usage of knives during meals. An example of a Thai Restaurant serving delectable Royal Thai Cuisine would be the famous
Bussaracum
. Their web site has their menu together with photographs of the dishes served there.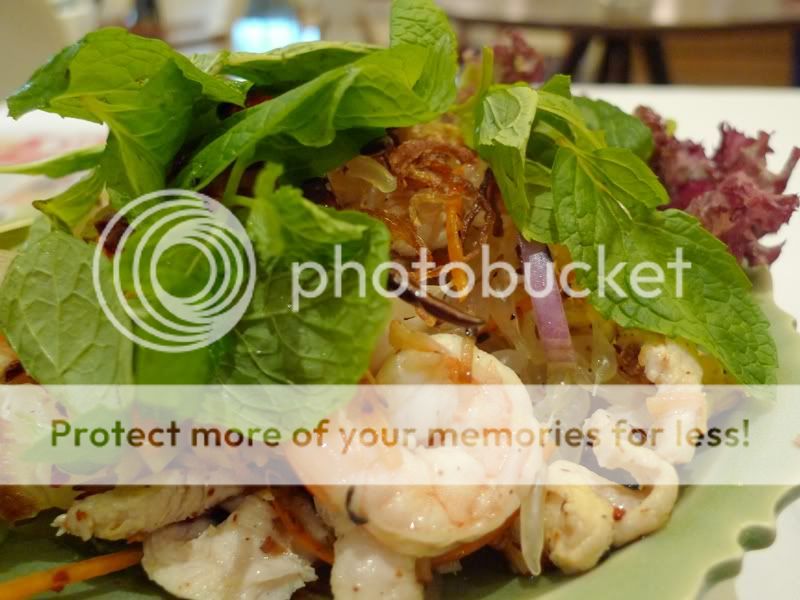 I ordered the Pomelo Salad
(Yam Som O)
which came fairly rapidly. Pomelo sacs played peek a boo with blanched prawns, coarsely minced chicken meat, shallots, fried shallot crisps, dried chilli (Thai version) and mint leaves. It came bathed in a dressing of Fish Sauce and Lime Juice. Noticeably absent in Celadon's version were peanuts, toasted coconut and dried shrimp. This dish was refreshing for a hot Saturday afternoon. Cool, sourish and sweetish Pomelo sacs juxtaposed with the saltiness of Fish Sauce and Sour Lime. The Mint leaves were an interesting twist to this traditional dish, but I would have loved some peanuts and crispy dried prawns to provide some textural contrast and for some added complexity to the flavour as well. All in all, the tastes are fairly balanced and in all honesty, it was one of the better tasting Yam Som O in KL.
The Tom Yam Kung (Thick Version) or
Tom Yam Kung Nam Khon
came in an individual bowl with 2 prawns inside. The Tom Yam was thickened with a little bit of coconut milk, giving the soup a slight body and an aromatic, tropical fragrance. Their version of the ubiquitous Tom Yam was piquant, heavily infused with Galagal and Lemongrass but the Chef was slightly heavy handed with the Lime. Normal Medium sized ocean prawns here, which was slightly disappointing, as river prawns would have flavoured the soup more richly.
Next was the Prawns with Tamarind Sauce or
Kung Makham
, which was 2 pieces of huge river prawns which had been deep fried and then served with Special Tamarind Sauce. The prawns were huge and flavourful and the natural sweetness and succulence of the prawns were well maintained and contrasted with the tangy and slightly sourish Tamarind Sauce. It was served with a fork and knife. Here's the interesting part.
It is common knowledge that Rama V was the king who introduced the usage of fork and spoon in Thai dining. A famous anecdote relates one day, the King was interested to see how westerners ate. He invited the British Consul to breakfast, and observed how the Consul partook his meal . King Rama V (or Chulalongkorn, the present King Bumiphol is Rama IX) then decreed that fork and spoon is good, but added haughtily he has no use for the knife at the dining table at all, since his meat and food has already been cut for him. And so far, I have not dined in any Thai Restaurants serving Royal Thai Cuisine in Bangkok that included knives as their cutlery.
The Dessert at Celadon was really limited, which was disappointing to say the least. I ordered the lychee mint freeze as a substitute. It was good as the mint leaves tasted quite good with the lychee, but was too sweet, even though I have told the waiter that I wanted half the amount of sugar that they usually put into the drink.
The meal at Celadon evoked a kind of deja-vous for me. Where have I had something similar before? Before I could ask the waiting staff whether Celadon shares the same owners as Amarin Thai at Mid Valley MegaMall, I was presented with a customer satisfaction survey form and the listed outlets there include Flying Chillies, Bangkok Jam and Amarin.
Dining ambiance and service was very good. For me, the food was just good compared to the other Thai Dining outlets in KL, but not exceptional. And I would be hard pressed to classify it as Royal Thai cuisine. Prices here are slightly higher. All the dishes above plus a Coke Light and Plain Rice came up to RM 115.70 (plus taxes), which would have bought me a three course lunch at Sage with a welcome drink, a bottle of San Pellegrino and coffee.
Celadon
Lot 6.37 Pavilion KL
Tel: +6.03.21.48.87.08