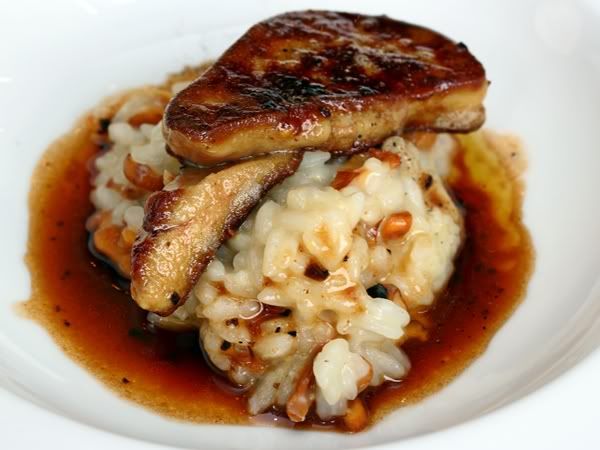 Girolle Mushrooms Risotto
with Foie Gras and Sauce Périgueux from Sage
Friends come in different shapes and sizes. Sometimes, it take ages for me to warm myself up to another person. But when somebody shouts "Love!" when William Blake is mentioned and simultaneously scream "Yucks!" at the Robert Burns and Wordsworth. That is the moment of kinship. An Epiphanic moment of discovering a fellow weirdo who is probably a slightly more perfect image of myself.
Likewise, traipsing along Italy with a very very limited budget meant that meals would have to be spent inevitably at humble restaurants, where meals are made from simple ingredients and a lot of heart. Hence, the discovery of Risotto, which I warmed up to immediately. Thick, rich and filling, and made from some glorious stock, it was the perfect dish for keeping an insatiable glutton filled up for the day.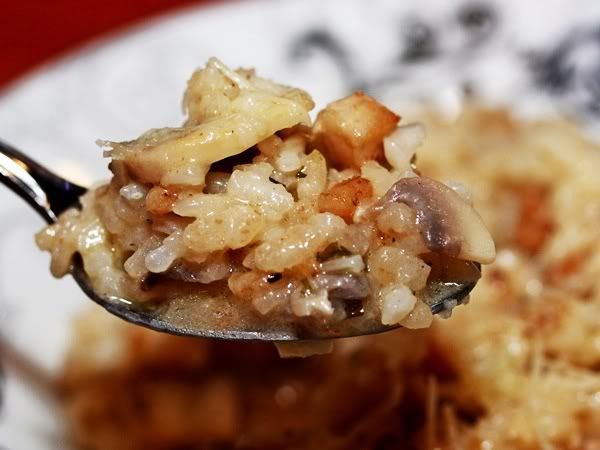 Pancetta Risotto from Osteria Real Blue (Non Halal)
Risotto is deceptively simple to make. The choice of rice is important, as it must be made from starchy strains and the common varieties used is Arborio, Carnaroli and Vialone Nano. The tostatura involves toasting of onions and rice without browning and subsequent steps are the most time consuming. The addition of stock ladle by ladle and constant stirring of rice to milk the starch out of them until it is al dente. Almost like haveing a tiny bit of uncooked portion in the centre to give it a bite.
The last step will be the mantecatura, which is the blending of Parmesan, butter or olive oil to the blend. The richer blend of classical Risotto which had a firmer consistency and allows a punged spoon to stand erect in the risotto has given way to the lighter all'onda. All'onda risotto gives ripples on the surface when scooped and has a softer and looser texture.
Truffle Risotto from Osteria Real Blue. Both Risotti were all'onda
The best place to sample the best Risotto prepared in the more modern all'onda styled Risotto will be at Osteria Real Blue, located directly above Papa Rich Cafe at Solaris Dutamas. Beautifully light with starch lovingly coaxed from the rice, blended with lovely stock and aroma of lovely soffiritto onions make both Risotti a carnal delight. The rice was almost translucent and the heady aroma of both the Truffles and Pancetta made me swoon deliriously. And as all things carnal, they are hidden and hence off menu. Do ask Mirko, the Chef and Sherry, his wife for advice. This lovely little place deserves a full post, and I will do so after I snap out of my Risotto coma.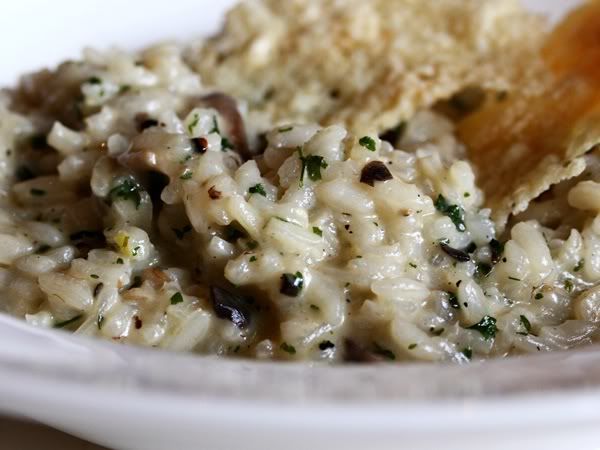 Mushroom Risotto from Diet Cafe
For those who prefer a denser, creamier and hence a more classical Risotto style, Diet Cafe serves a wonderful textbook perfect Mushroom Risotto. Another gem of place that deserves it's own post, it is located in Cheras and priced at RM20 thereabouts, the cheapest among the risotto featured here. Served with some Parmesan Crackers this was the richest tasting, heavy and the most al dente of the lot.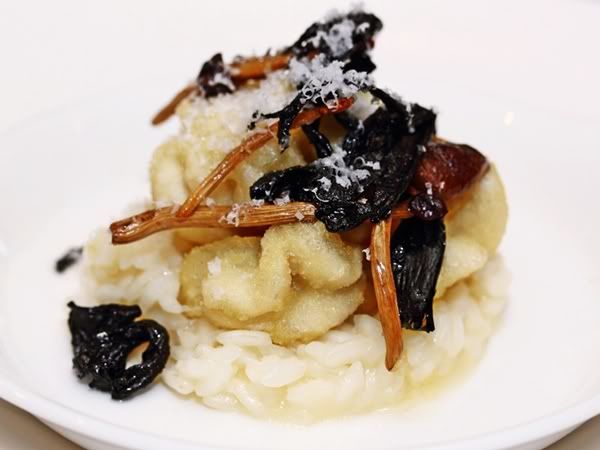 Wild Mushroom Risotto served with Shirako Beignet from Cilantro
The Risotto served from Cilantro was probably the most luxurious. The stock was balanced and the Beautifuly Tempuraed Shirako (Cod Sperm Sac) enhanced the creaminess of the dish with the and crunchiness of the batter was an interesting textural contrast. Another carnal dish to lust after since it is only seasonal, with the excitement of encountering some DNA from Male Cod Y.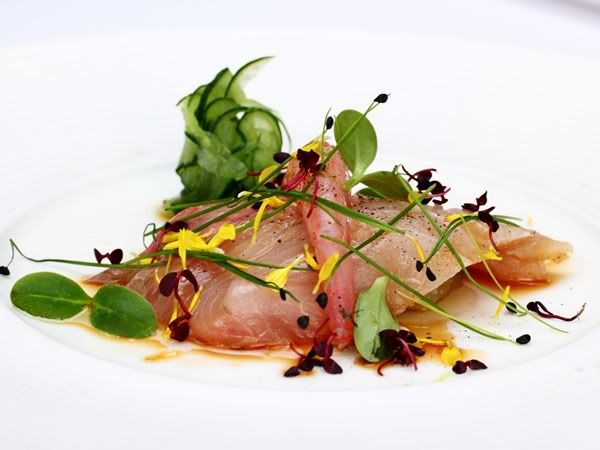 Konbujime of Hamachi with Ebi and Soy Truffle
The Risotto from Sage was lovely and Richly flavoured with chunky bits of Chanterelle and Madeira infused
Périgueux
Sauce and topped with some perfect Foie. This is avaible only this week for lunch. Other items for this week's lunch is the beautiful Hamachi and the Fresh Fig tartlet (with some coconut and sago) with Ricotta Ice Cream. Absolutely divine, and for Sage Virgins waiting to get deflowered, this week will be the perfect week.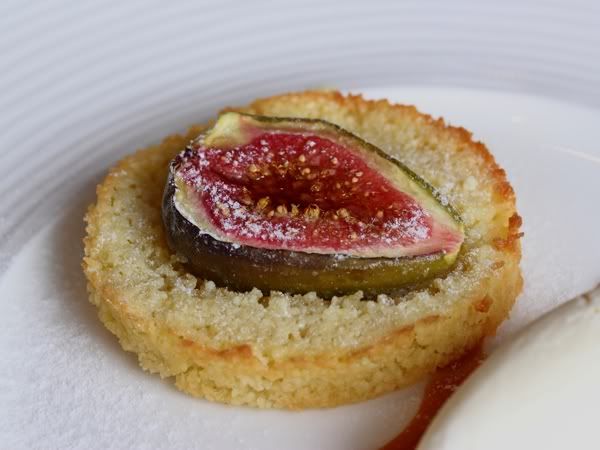 Baked Fresh Figs Tartlet with Ricotta Ice Cream
Five excellent Risottos in two weeks while in KL, the most unlikely place to find Risotto and somebody who loves Blake.
Osteria RealBlue
A3-UG-06, Solaris Dutamas
Jalan Dutamas 1.
Tel: +6.03.62.07.97.99
DIET Cafe
27, Jalan 3/101C
Cheras Business Centre
Kuala Lumpur
Tel: +6.03.91.30.17.00
Sage
The Gardens Residences Level 6,
The Gardens, Mid Valley City,
Lingkaran Syed Putra,
59200 Kuala Lumpur, Malaysia
Tel: +6.03.22.68.13.28
Cilantro Restaurant & Wine Bar
MiCasa All Suite Hotel,
368-B, Jalan Tun Razak,
50400 Kuala Lumpur, Malaysia.
Tel: +6.03.21.79.80.82