(no pork served)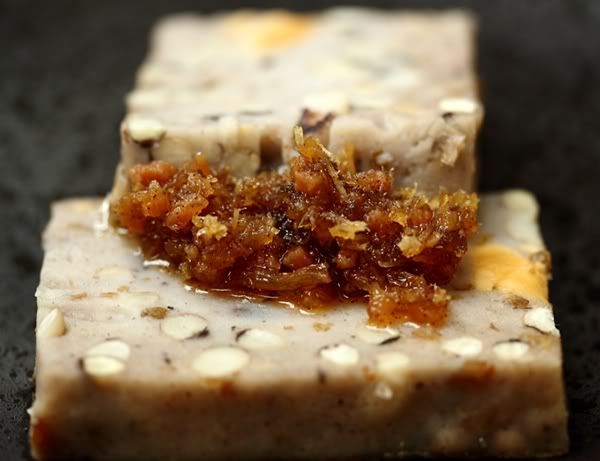 Black Eye Pea Cake, with Salted Egg Yolks served with CookBook Chilli
The survival of mankind is hinged on it's ability to adapt to averse environments. This amazing resilience has allowed us to become what we are, surviving the bitter cold weather of the Arctic to the acrid dryness of the Sahara. We survive on challenge, and being a firm advocate of Free Market Economy, I believe that humans thrive on challenges. A market that is devoid of competition will see less innovations and attempts to bringing about beneficial changes that will eventually benefit consumers. Subsidies and protectionism are just short term measures that would bring about complacency and rot if left unreviewed and only has a very limited shelf life.
This holds true for every aspect in our life.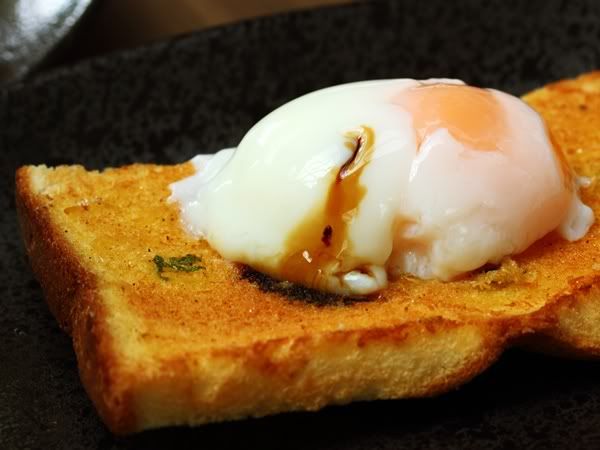 45 minutes Poached Egg, served on a Toast with Dried Scallops and Black Sauce
Once in a while in my forages to fulfil the satisfaction of my cravings, I do stumble on little treasures. Food that is so simple, yet innovative and satisfying that it leaves a gasp and a smile simultaneously on the face. Local cuisine served with a twist - deconstructed and reassembled creatively and luxuriously, beautifully plated and served with passion and served by attentive servers. Welcome to My CookBook.
Prawn and Scallop Kataifi served with Lemongrass Mayo Potato Salad
Take for instance, their 45 minutes poached egg which came wobbling, nestled on a piece of toast with bits of dried scallop and a savoury black sauce. It was probably sous vide egg, with the slightly runny egg white that manages to hold it's shape and the yolks barely set. That was the most perfect egg I have tasted in a long time, smooth and soft with the flavours intact and pristine. Coupled with the toast and condiments, the orgasmic rhapsody of taste and texture was breathtakingly and achingly perfect. This was our Malaysian version of a dry Onsen Tamago.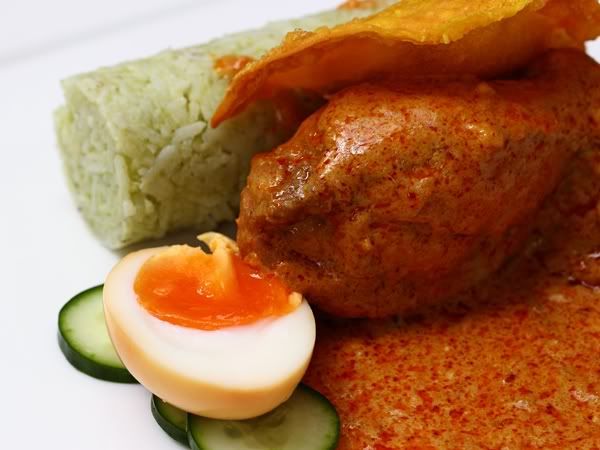 Pandan and Barley Rice, served with Chicken Thigh Curry
Another example of a beautifully de-constructed dish will be the Black-eyed Pea cake with it's silky smooth texture with the rich savouriness of salted egg yolks. Ingeniously garnished with some lightly spiced piquant shreds of fried dried prawns, it reminded me of the philosophy of destruction and rebirth in Vedic traditions. The often lard soaked and greasy Chinese glutinous rice dumpling has been destroyed, and in it's place is a pork free version, with all the important components of it's flavour intact. Rebirth of this ubiquitous street dumpling came in the form of it's transformation into petite square slabs of perfection.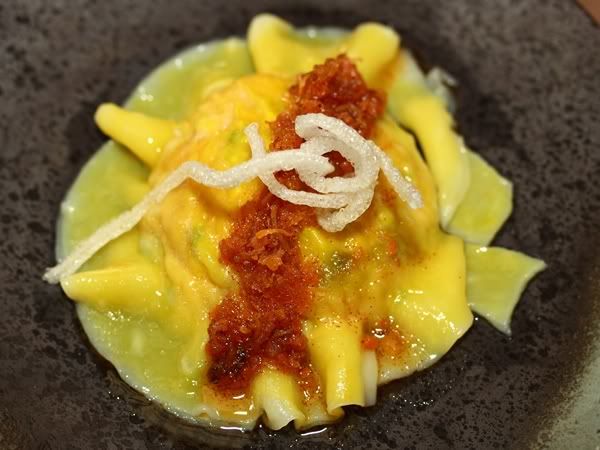 Giant Wonton
Not all of the appetizers were examples of gastronomic perfection. The Kataifi was fried to perfection with exemplary lightness and crispiness, but I found the shrimp and scallop paste to be lacking in flavour and over compensated with saltiness. It came nestled on top of a bed of beautiful potato salad with a lovely, light and aromatic mayonnaise invigorated with the scent of lemon grass, which was it's saving grace.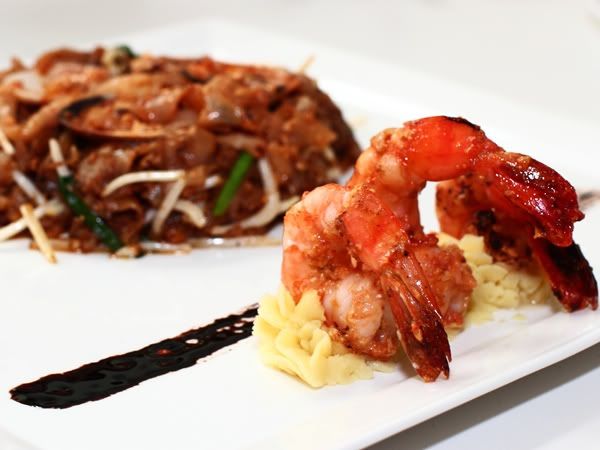 Fried Kuey Teow
I fail to remember how the Giant Wonton tasted. As far as I am concerned, it behaved like any licentious wanton I have encountered. Pretty and attractive enough to entice me for a tryst but realized later that it was insipid and totally devoid of personality. It could not captivate me.
Luscious seafood patties was sampled, but the economist in me balked at the price (RM11.90) I had to cough out for two slightly larger than 50 cent coins sized albeit satisfying delights.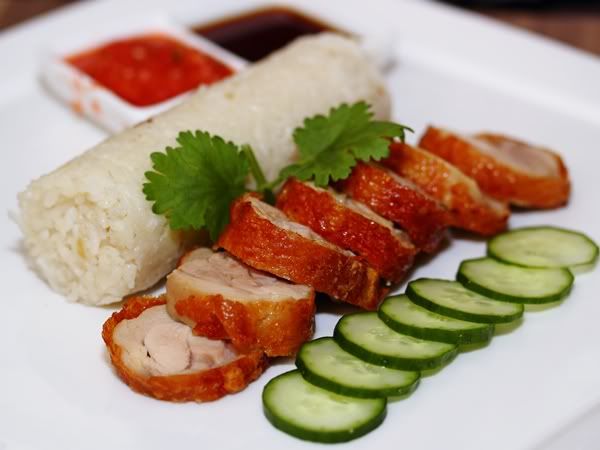 The Star of the mains has to be the Prawn noodles, with it's heady aroma and it's beautiful broth drenched in Crimson, the colour of Chinese New Year. Served with some velvety smooth noddles noodles and half a large prawn filled with roe, the soup was like a bisque without the white wine. Slurp it indulgently. Cholesterol never tasted so good. A perfectly poached egg accompanied the dish and added to the burden of guilt.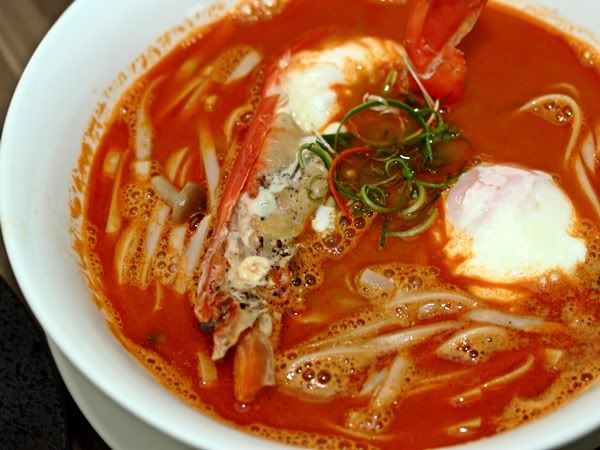 MY King Prawn Noddle in Prawn Bisque served with 45 Minutes poached Egg
My CookBook attempted to make the traditional Nasi Lemak healthier by replacing the coconut milk rice with Pandan and Barley flavoured rice. The attempt was successful with perfectly fluffy rice, each grain perfectly cooked and fragrant. Served with some not too spicy Chicken Thigh Rendang and Half a boiled egg, it was satisfying without being too cloying.
The Chicken Rice came with some silky soft demure chicken roulade which covered it's modesty with crispy chicken skin. The presentation of this dish was lovely and a beautiful clear chicken broth with some congealed egg white came as a side.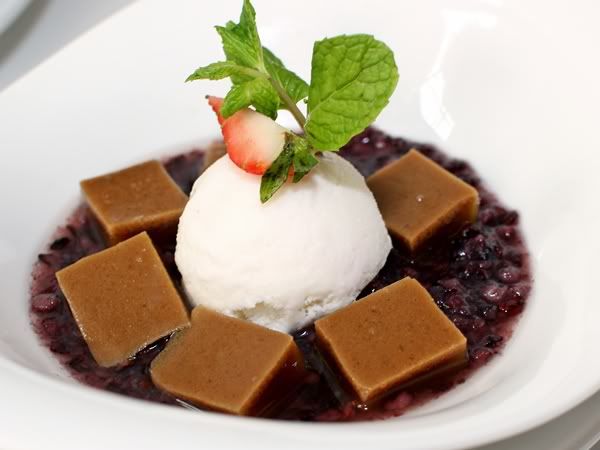 Black Glutinous Rice with Coconut Ice Cream and Homemade Peanut Beancurd
The Char Kuey teow with duck's eggs was charred chinese style (wok hei). It came fried with clams (la la) instead of cockles. It was a pedantic dish that failed to dazzle due to it's oiliness.
The Avocado Cream was dreamy, light concoction and went very well with the yam ice cream and the interesting Black Sesame Bean curd. The Black Glutinous Rice porridge again was given a modern interpretation, with coconut ice cream replacing the traditional coconut milk and pieces of peanut flavoured bean curd and peanut bean curd for contrast. Both desserts were clever and light, with perfect sweetness.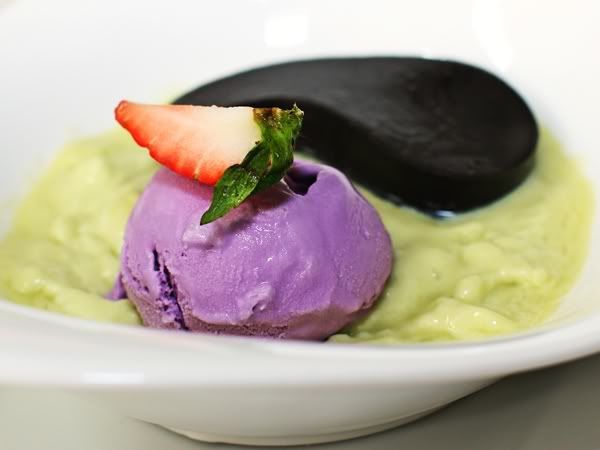 Chilled Avocado Puree with Yam Ice Cream and Homemade Black Sesame Beancurd
Fortunately, food is the least politicized aspect of our lives. Without the interference of Politicians to point out our differences, most Malaysians embrace food from other races readily and the best examples of national unity and integration is best seen in restaurants more than anywhere else. A place where politics are frequently debated without the embarrassing shenanigans of the parliament. No name callings, no charges of biased speakers and no fist fights. Where the spirit of multiparty co-operation exists, from atheist liberal lefts to ultraconservative rights can agree to disagree and have a meal together. Hardly surprising, since individuals do behave better when disassociated with rabid packs.
Free market and competitiveness also encourages innovation from pragmatic restaurant owners to create and modify dishes and work around cultural food taboos to recreate imaginative dishes. Maybe not for the altruistic reason of national unity, but rather to increase the marketability of the products and maximize profitability. After all, humans are pragmatic and adaptable.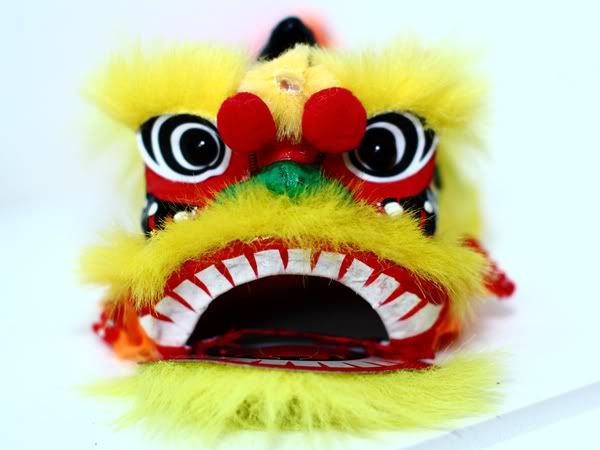 Happy Lunar Year to everybody!
Sorry for digressing. A meal like that would deserve a visit to the Church of Immaculate Arteries. At the confessional booth, I confessed to Father Kardio about my lustful afternoon filled with eggs, prawn roe and more eggs. How I was seduced by the pleasure of the senses. He ultimately prescribed a penance of treadmill and temperance at the dining table and banished me to a dreary nicotine free world thankfully devoid of statins for now. It was a penance without contrition.
It was small inconvenience to pay in order to continue to enjoy more delights at My CookBook.
My Cookbook
A-12 Sunway Giza,
2 Jalan PJU 5/14
Kota Damansara
PJ
Tel: +6.03.61.40.61.13
Price: Expect to pay about RM 50 to 70 for a 3 course meal.