(no pork served)
Beautiful Khon masks at Erawan




Suffering from navigational impediment, I always thought that the edge of the world lies after Ikano/Ikea and until recently, I have not ventured beyond it. A huge suburban maze that requires hours of patience and bladder holding to get out of is more daunting than battling sea monsters and serpents in the great unknown that used to plague the minds of explorers in olden times.
It was to my surprise that a sprawling mini world exists after that unglamorous underpass, a sprawling suburban jungle complete with a thriving commercial centre complete with massage parlors, bleak looking shop lots, pollution and traffic jams. Redemption for this sub urban squalor came in the form of a charming little restaurant that had a lot of green plants at it's frontage. Mosaic stucco tables, paper mache lamps, terra cotta figurines at the entrance greeted me with a casually with a disarming charm.
Rice Paper Lamp with Frangipani Cutouts, self modified by the owners
Upon entering the Restaurant, one would have no doubt that the owners of Erawan has artistic flair with an eye for beautiful details. The restaurant is filled with a mixture of new and old, beautiful Khon masks in a glass cabinet is paired with modern interpretation of Lanna styled paintings on the wall. The self modified rice lamps hangs from the ceiling while Brass appliques are attached on the wooden floor of this restaurant. The decor was both eclectic and eccentric but being surrounded by these beautiful objects served as a relief from the discordant katzenjammer of having just trudged through the suburbs.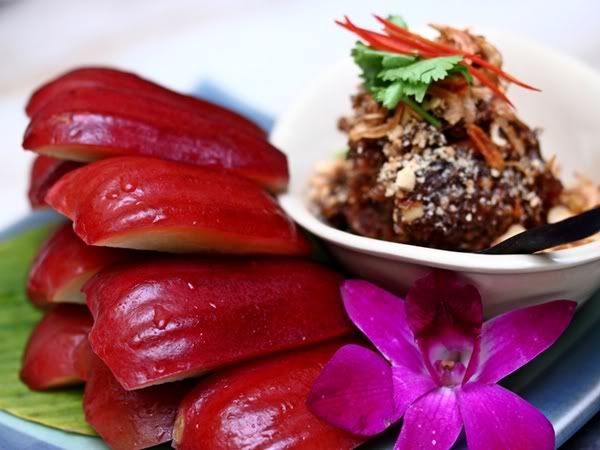 Rose Apple served with special Erawan Dip
The food at Erawan was surprisingly, excellent. It had been a long and difficult 2 months for me, and less than stellar dinning experiences has been relegated into a purgatorial limbo state in my hard disc, mainly in the form of photos of food that was neither good nor bad awaiting further excursions before deciding to do a write up about it or not. Thankfully, my dining experience at Erawan was nothing short of spectacular.
Chef Korn's magical touch has transformed the simplest Thai dishes into elegant culinary creations, beautifully plated and served as an object of art. First to be admired visually and then to be savored and appreciated with a humbling experience of sampling some astonishingly delectable dishes that have been created by a Chef that has a passion for the flavours of Siam, and a deep appreciation for local ingredients that were used in his creations.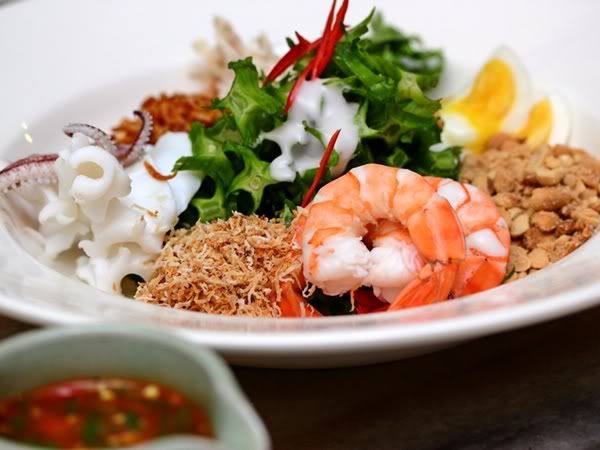 Four Angled Bean Salad
Take for instance, the ubiquitous Kaeng Khiew Wan or Thai Green Curry. It is found from the lowly street side vendors who use it as a curry for Khanom Jeen (steamed Thai noodles) to Restaurants serving Royal Thai Cuisine. The version at Erawan is decadently velvety, redolent with the heady fragances of freshly cut Green Chilli, Lemon Grass, Thai Basil (Bai Horapa) and Corriander all of which gives the Curry it's characteristic greenish tinge.Cumin, Galagal and Kaffir Lime Zest added an exotic flavours to this lovely dish and in keeping with it's origin from the Southern part of Central Thailand, the curry was thickened with luxuriously fragrant coconut milk.
If all of these was not impressive enough, the curry came in a bowl made of fine Benjarong Ceramic filled with cubes of tender chicken breast and fish balls with a heart of salted eggs. This was the most perfect version of Kaeng Khiew Wan Kai that I have ever tasted outside Thailand.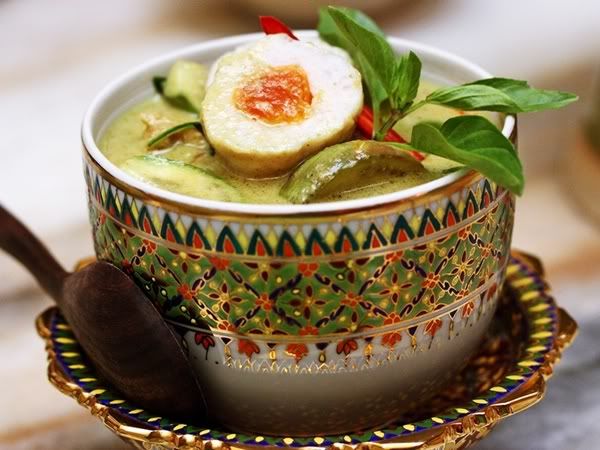 Fish Balls with Salted Egg and Chicken Thai Green Curry, served in ornate Benjarong Ceramic
The Dry Curried Beef (Panang Beef) is prepared by frying the curry paste and beef in a wok, unlike Red Curry which is prepared by boiling. Although lacking in peanuty flavour, the rich, creamy and slightly sweetish curry was very balanced. Served with the Regal buttery soft slivers of Australian Tenderloin with a tiny rivulet of coconut cream running in it's centre and juliened kaffir lime leaves and red chilli on it's side, the dish is a carb magnet and is a perfect match for rice.
Panang Beef Curry
Although my wonderful dining companions enjoyed the Roasted Duck Curry, I found the excessive amount of Coconut Milk in the curry to be be distracting. It rendered the curry too thick and masked the wonderful taste of the perfectly textured duck and also smothered the aroma and tanginess of the pineapples. This could have been an exceptional dish, and would shine with just some minor tweaks.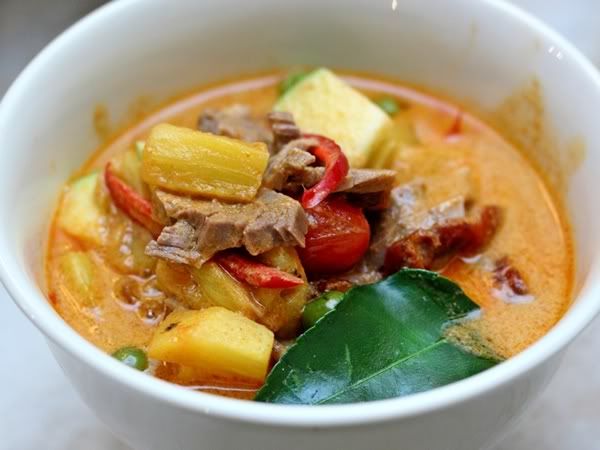 Roasted Duck Curry
We had two starters and both were equally staggeringly oustanding. The first was Rose Apples (Chom phu) that was served with a dip that probably had it's roots in Miang Kam. It had the fishy taste of Nam Pla Whan (sweetened fish sauce) and dried shrimps together with toasted coconuts, shallots and garlic. But instead of a messy sticky sauce, this was a more civilized solid clump that can be scooped onto the Rose Apples. It was the perfect appetizer.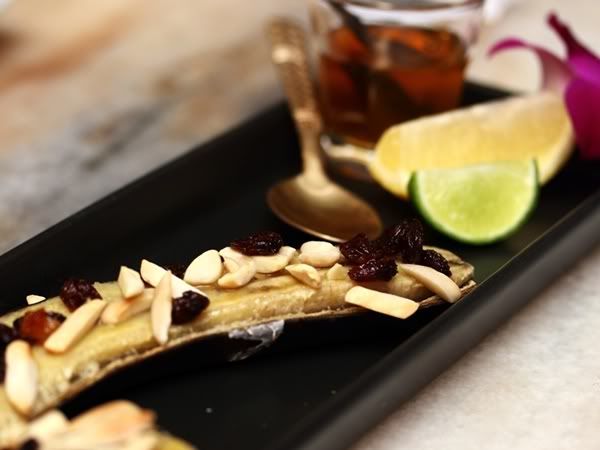 Roasted Banana
With the Four Angled Bean Salad (Yam Tua Phu), Chef Korn played with our tastebuds like a master virtuoso. Each mouthful brought out the clean and striking flavours of each individual ingredient, the crunchy beans, the slightly bouncy prawns and squid with the crunchy peanuts and toasted coconut. Each with a different texture that played with the spiciness and acidity of the dressing. It was a rapturous symphony in the mouth and an anodyne for the palate.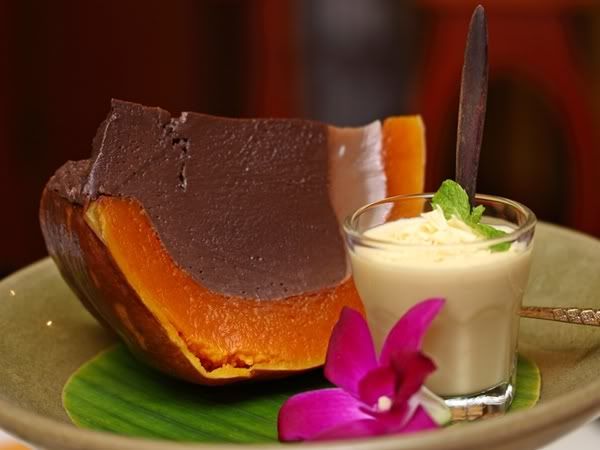 Steamed Pumpkin with Chocolate Pudding
The Roasted Banana continued to haunt me until this day. The banana was roasted until it emanated a seductive aroma and lime and lemon was squeezed onto it before adding some honey onto the surface which was topped with raisins and nuts. This was the perfect metmorphosis of the humble gluay ping or grilled unripe bananas which is served with "pandan kaya" sold at the roadsides of Bangkok. With much thought and meticulous experimentation, Chef Korn has elevated this humble dish into a delectable dessert worthy to serve a king.
The Steamed Pumpkin with Chocolate pudding was a clever fusion of Thai and Western dessert that worked, despite my initial skepticism. It was flavourful without being cloying and the sweetness was just perfect. We also had Thab Thim Grob and Boiled tapioca both of which were worth their own salt, but was over shadowed by the marvelous banana and pumpkin.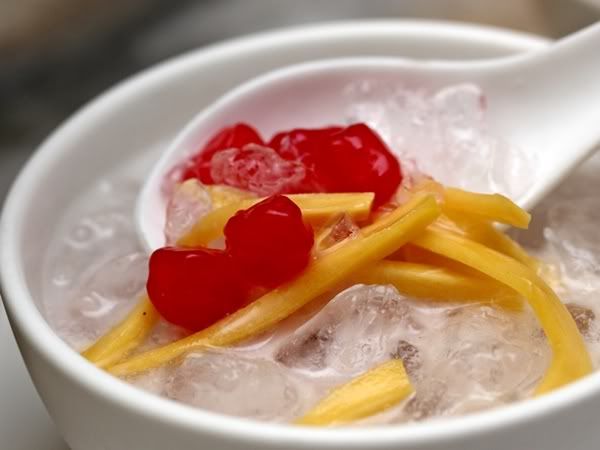 Thab Thim Grob
Dinner ended with a drive through Kampung Penchala and Bukit Lanjan area by our gracious driver. This was an area, like Kota Damansara, that I have never ventured before in my life.

I suppose this being the first post for 2011, it is probably a good time for me to look back and reflect on what blogging means to me. Though it seems like ages ago, I have only been blogging for one and a half years. I bought my Lumix LX3 in June 2009 because of this blog, and finally upgraded to a DSLR in July 2010. It has given me an opportunity to meet a lot of people (not that many actually, but for a neurotic loner who prefers solitude it is a lot). I still shun crowds and have an irrational fear of exposing my identity online.

The handful of people I have met have provided me with photography tips, information about good eats and helped me open up in a way that I wouldn't have been able to imagine. They have tolerated my paranoia and insecurities, and also my sharp, intolerant acerbic tongue with the patience and understanding.


Paper Mache Lamp at the entrance of Erawan
I started to blog because I want to share with others food that has captivated me. Food prepared with imagination and creativity. I think this is what food blogging should be. A group of people linked by the love of food and sharing honest opinions and exchanging information about food. For me, it was never about popularity, blog hits or being famous. I happen to think that my time spent on writing a post or editing pictures is rewarded by the feeling of camaraderie of having shared something with friends and does not come with any entitlement or benefits.
After contemplation, I still hold on to the principle that where possible, it is better for food bloggers to pay for their own food. I am not the only blogger who have this point of view, some blogs are more fastidious than mine. The reasons are fairly obvious, and I am glad that most of my friends (including my frequent dining companions who work for the PR industry) respect my decision to do so. I do not look down nor admonish those who do invited reviews. Many of my blogging friends do it, and do it with integrity. All a reader needs to do is just to read between the lines or look out for omissions and will generally get an honest picture of what the food really is. To each their own and Malaysia is blessed with a diverse group of food bloggers who have their individual style and appeal.
Unfortunately, this point of view is not universal and the low point of 2010 was when someone compared Bloggers having to pay for food to Car reviewers having to pay for the car they review. To me, this is the ultimate insult to my intelligence because as everybody knows, unlike car reviewers, you cannot return food that has been consumed. After digestion, food turns into the stuff that is stuck between the ears of the person who has made this comment. Unlike me, a sloth, many people work hard for their blog and deserve to be rewarded for their effort. I have absolutely no qualms about it. For goodness sake, just articulate your arguments logically. Food bloggers are getting a bad rep already as it is.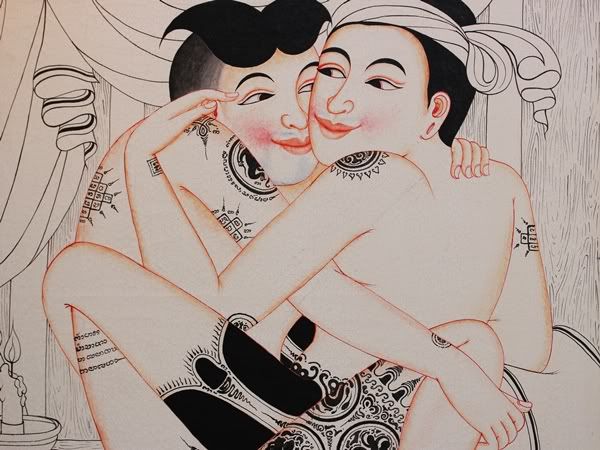 Lanna Thai inspired painting at Erawan
It has been a happy one and a half years, filled with many happy memories of both dining in solitude and dining amidst the congenial laughter of friends. These few months have been difficult as work is beginning to make a toll on my time. In keeping with the spirit of New Year, I would like to apologize to anybody who has been inadvertently hurt by my comments or crassness, bloggers and restaurateurs included.
Hopefully things will normalize by Chinese New year, and I will be back to blogging more frequently.
Erawan Thai Restaurant
(Reservations strongly recommended)
No.22-1, Jalan PJU 5/16,
Dataran Sunway Kota Damansara,
47810 Petaling Jaya,
Malaysia
Tel: +6.03.61.41.23.93
Dinner:
Tueday - Sunday: 6pm - 10.30pm
Lunch + Dinner
Every Friday - Sunday: 12pm - 3pm, 6pm - 10.30pm
Closed on Monday.