(no pork served)
Imagine your mouth filled with a spoonful of the most heavenly Cereliac Puree, wonderfully fragrant yet slightly earthy and vegetal, light and pure, not overtly green nor overpoweringly pungent, with a slight starchiness. You ask the Manager, what's the secret?
Roasted Celery.
You nod, and slowly work your way down into the cubed bits of Salmon, drizzled with Truffle Oil. Slices of crunchy Daikon Radish to balance out the beautifully clean flavour and texture of this very untraditional rendition of the Tataki. You smile and think. So simple yet so delicious. The sea meets the land with a rapturous sigh of pleasure.
Nathalie's menu rotates monthly with 5 starters, mains and dessert. Yet the menu is so diverse and inspired that it is breathtaking. The cooking techniques are faultless and the plating is simple. The Chicken and Morel Timbale looks like a feat of engineering marvel, with vertically assembled Penne lining the succulent baked chicken topped with Morel Mushrooms. The ensemble came steeped in frothy, earthy morel emulsion that made each mouthful a pure indulgence and a celebration of the earthiness of this mushroom.
The soft and slithery scallop carpaccio came adorned with the usual salad greens and avocado and crowned with some crisp fried julliened ginger. The grapefruit based dressing was sourish and tangy. It was a wonderfully refreshing salad.
Nathalie used Haddock or églefin in her Revised Bouillabaisse that was marvelously smokey and infused with generous amounts of Saffron. The interesting thing about this soup was it was served with bread topped with Rouille Sauce, which is popular in Provencal cooking but I have never encountered in KL before. Despited the "revision", the Bouillabaisse did not stray too far from it's heart in the South of France.
It is always a pleasure to dine at Nathalie's because of the beautiful touches and the slight whimsical sense of humour that gives the dishes so much personality without resorting to theatrics. The King Prawns Lasagna with two large perfectly grilled and aromatic prawns sitting resplendently on top of 3 layers of Lasagna, with some zucchini and tomato in between one of the layers, and some chives in another. The bisque sauce that cloaked the Lasagna was an inspiration, lightly creamy yet intensely flavoured. The flavour lingered on in the palate like a long lost kiss from a forgotten lover.
The Stuffed Cabbage with Beef, Chicken and Parmesan swimming in Herbal and Chicken Broth was a worthy homage to the rustic, austere and mountainous Auvergne region in Central France. The meat was densely packed and richly flavoured, and the serving has huge.
When it comes to desserts, be prepared for some of the most pleasurable and indulgent treats this side of the world. Nathalie does not fail to deliver and deserves to be named the Goddess of Desserts. The flavours are usually intense, gorgeous and multi-dimensional.
The roasted pineapple tart was served with an extraordinary dollop of pineapple sorbet and crowned with a paper thin slice of oven dried/roasted pineapple. Sweet, crisp and tart and bursting with beautiful tropical flavours, it was magnificent.
The Citrus Craquant hid some beautiful Grapefruit Sorbet inside it's cripsy cracker like exterior. Bit's of grapefruit and orange lined the bottom and it was topped with orange sorbet and a thin slice of crispy oven dried lemon. There is a light tinge of bitterness to this that drove me to a frenzy. I must go back soon to taste the rest of their desserts which sounds tempting, especially the Caramel Mousse, Roasted Banana with Morels and Balsamic Caramel Sauce which I am sure will be ecstatic. I have decided to post earlier without completing the menu because the current menu will end in 2 week's time!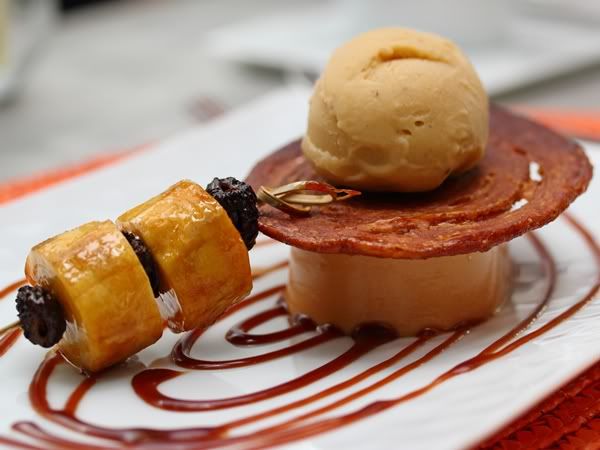 Updated! The Caramel Mousse, Roasted Banana with Morels and Balsamic Caramel Sauce. It was ecstatic.
Nathalie has been nominated as one of the contenders for the best Chef in the Time Out KL food awards 2010. You can cast your votes
here
.
Be prepared to pay about RM120-RM150 for lunch. For detailed menu and pricing, please visit Nomad Gourmand's site
here
.
Nathalie's Gourmet Studio
A-4-1-5 Dutamas Solaris
Jalan Dutamas
50490 Kuala Lumpur
Tel: +6.03.62.07.95.72