(Pork Free)
It finally happened, that dreaded moment for every foodie. I was dining with @agentcikay at a fancy joint one day when she passed me her unfinished piece of Foie. She just could not eat it. There was nothing wrong with the Foie. It was perfectly fried, unctuous and creamy, slightly charred on the outside, with a few crystal of squarish sea salt on top. A beautiful piece of Foie, I could not finish it for either. Somewhere in the Holy Texts of Gastronomy, it has been written that Man should not live on Foie and Wagyu alone.
Nathalie's Gourmet Studio is nestled in Solaris Dutamas, a convergence point of the Middle Income Diaspora in the city. Where it's denizens are more than willing to flaunt their new found wealth. Nathalie's is not only a restaurant, it also houses a culinary school as well. It houses 2 kitchens. The kitchen where cooking classes are held is a real beauty. Sexy, with lots of natural light streaming in through the large windows. The other kitchen is for the restaurant. A small slit separates the dining area from the kitchen, you can see Nathalie and her little elves working their magic intently and diligently, with coordinated movements like clockwork.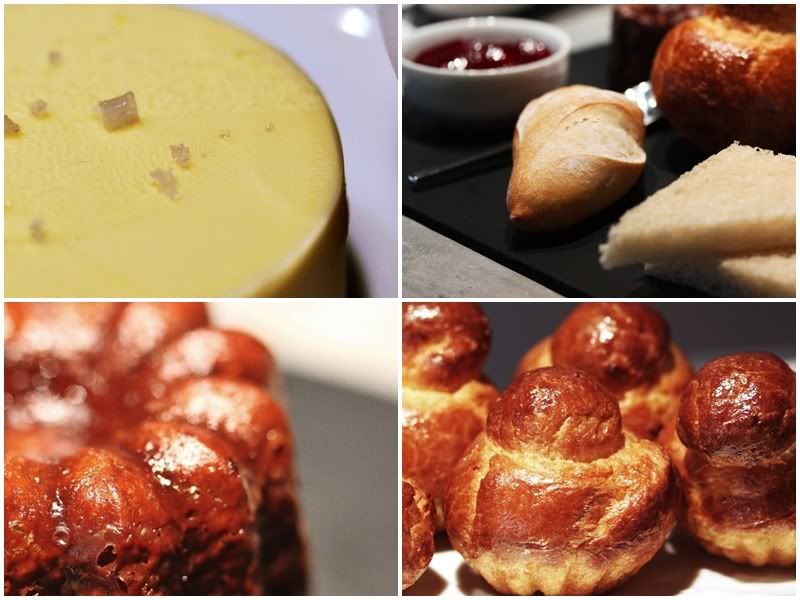 Clockwise, from top left: 1. Salted Butter 2. The Breakfast Platter 3. Feathery light Brioche à tête 4. A Boo-esque impression of canelé.
Nathalie's is open at 9 am. If you happen to drop by there for breakfast, do not let their fairly limited breakfast menu disappoint you. Be prepared for a Carbo Feast. The French are very particular about their bread. Baguette Dough is actually defined under French Law. If you opt for their typical French Breakfast, you will be served a variety of freshly baked bread on a board. The Brioche à tête was a beautiful golden brown on the outside, with a flaky and feather light interior. The dough was amazing, eggy and buttery and the smell, the smell, the smell. Lovely.
The canelé is a French Pastry which is a specialty of the Bordeaux region. It is brown in colour, with a caramelized, crunchy crust, but a soft and light centre that is vanilla-custard-like. It is made using specialized, beautiful copper canelé moulds. There are many variations in the sizes of canelé. The ones at Nathalie's are petite and packs a very strong flavour at the soft centre.
Nathalie's reminded why I started to blog about food. Discovering small little gems in far out places that serve outstanding food. Mouthwatering food. Food that makes you smile and shake your head at the first bite. Beautiful food that makes you gasp in surprise. Take for example the Norwegian Poached Eggs with Chive Emulsion which comes in an oval, egg like shape. A Faberge Egg, wrapped in Smoked Salmon, unraveling the succulent pieces of fish reveals a perfectly poached eggs with runny yolks sitting on a small bowl artichokes, prompting squeals of delight from my fellow diners.
Or the suprisingly light Tuna Mille-Feullie with Black Olive Dressing, with a thin layer of Puff Pastry for that added textural and taste contrast to otherwise a classic tuna salad. These little tweaks and twists serve to affirm that you do not need posh and expensive ingredients to make a great meal. And the Revised Momotaro Tomato Mozarella, which turned out beautifully refreshing with a gelatin like layer of tomato reduction at the bottom. Perfect for the hot sweltering weather we are experiencing.
The culinary adventure at this quaint little French Restaurant continues into the main courses. The Ricotta and Herb Ravioli in Carrot and Ginger Broth was as beautiful as it was delicious. Filled with Ricotta chopped chives and and Basil in some beautifully sweet and aromatic broth came an orange coloured pureed carrot and ginger at the bottom that was as sweet as nectar. The Ginger obliterated any satiety caused by the cheese. I could only grin like a fool while savouring it.
The Oven Baked Cod Fish, with Creamy Asparagus with Old Parmesan, Balsamic Reduction was also tasted. The fish was perfectly baked, with all the sweetness and moisture retained, but the sauce was a little bit too creamy. Some Asian influences can be detected in the Chicken and King Prawns with Fennel Ragout and Bisque Sauce. A roulade like dish, with chicken meat wrapped around the prawn and a delicately aromatic spice infused bisque that reminded me of marjoram. My breath smelled beautifully fresh for hours after that meal.
Desserts are a high point here. This must be THE place for the best desserts in KL. The Strawberry and Raspberry Surprise bowled me over. Again, a beautiful egg shaped sorbet came shaped like an egg in a meringue egg cup, hiding a heart of strawberry and raspberry compote. Cold, sourish, sweet and tart. Genius. The Revised Apple Tartin with Caramel Ice cream was also a source of amazement. The apple was not over cooked in a soggy mess, but still retained a bit of crunchiness, with balanced spices and a smoky caramel ice cream on top.
The Pineapple and Lime Crumble with virgin Pina Colada Ice cream was good, but lacked the wow factor.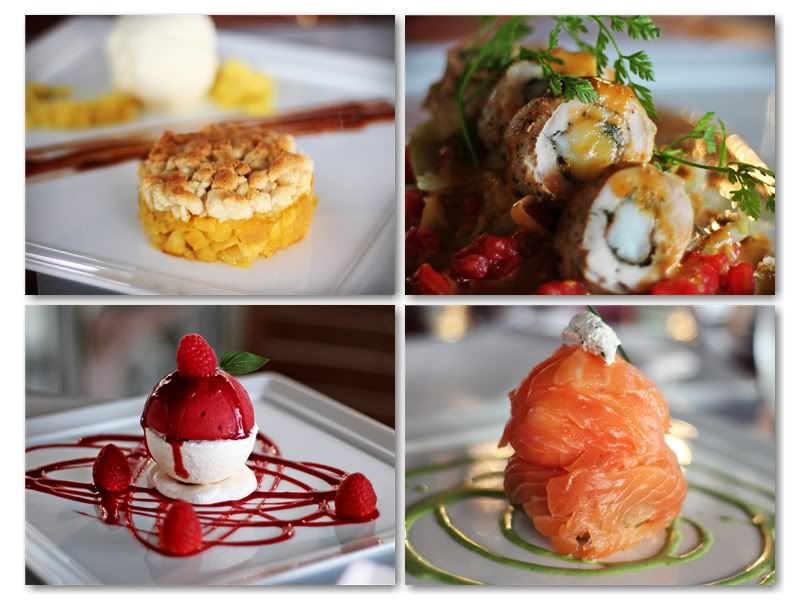 Clockwise, from top left: 1. Pineapple and Lime Crumble with virgin Pina Colada Ice cream 2. Chicken and King Prawns, Fennel Ragout with Cream Bisque 3. Norwegian Poached Egg with Chive Emulsion. 4. Strawberry and Raspberry Surprise
Dining at Nathalie's was a very unique experience. It was contemporary French Cuisine, minus the fuss, rituals, ceremony and pomposity commonly associated with French Haute Cuisine. The emphasis here is on fresh ingredients, with a careful balancing of spices or condiments to enhance the flavours. The ambiance is excellent, I felt I have been invited to the home of a very good cook and given a showcase of her skills.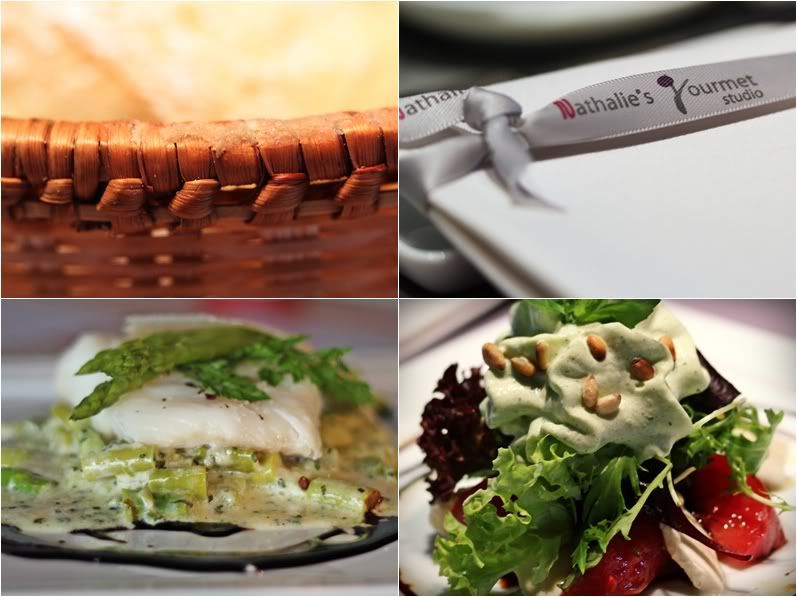 Clockwise from top left: 1. Details of the Bread Basket 2. Napkin 3. Revised Momotaro Tomato Mozarella 4. Cod with Creamy Asparagus
Nathalie's is especially known for her Macarons. They have a dizzying selection of flavours and colours. I found them not as chewy and a little too crumbly compared to the ones I have had. And the ganache, although intensely flavoured, was a little too sweet for me.
Service is still excellent, although they do admit they lack waiting staff for the moment. Benoit, the Manager is very friendly and is able to answer any queries about the food. Prices are very reasonable, be prepared to spend only about RM100 for 3 courses of excellent food plus drinks and coffee.
We live in a world that wallows on decadence and excess. If there is proof that less is more, this is it. The deconstruction of French Cuisine and reconstructing it back to a very modern, accesible cuisine. I found the food too be exciting, with a sense of humour, beautifully cooked with exacting technique and left the restaurant with a smile on my face. And something that is probably more rare and warmed up my heart, I have partaken in a meal cooked with love by somebody who obviously loves food, who has thought a lot about food and is obviously very pleased to share her passion for food.
More Info at : www.nathaliegourmetstudio.com
Nathalie's Gourmet Studio
Unit 4-1-5
Solaris Dutamas
Jalan Dutamas
50480 Kuala Lumpur
Tel : +603 62 07 95 72
They are open from 9am to 6pm, but try to make it for lunch by 3.30pm. Closed on Sundays. Reservations recommended.
PS: Do forgive this hurried post, done in between naps. I was just too excited about the food and just had to share it with you guys.